I like most of you out there go to a lot of trouble to obtain the perfect garden. A tranquil place, where after all of my hard work in the spring can sit and enjoy the fruits of my labour. Watching and enjoying the beautiful buds opening and taking in the different scents. It is very important to me not to allow all my hard work to deteriorate while I am on holidays. Here are a few helpful hints to help prevent that from happening.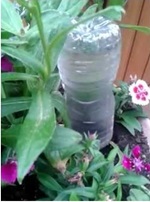 1. Move all outdoor pot plants to a sheltered position. In a place that still gets rain and sun but away from strong winds. Group them together to protect them from strong winds. "strength in numbers".
2. Indoor plants move them away from the windows. Place in the middle of the room so they still get light but not as much. Less light and heat means less water needed.
3. Self watering for plants: this can be simple made at home. All you need is a plastic bottle. Pearse two holes in the lid of the bottle. Do not make the holes too small or they may get blocked with soil. Too big and too much water will escape too quickly. I find that a weeks trial run before you go on holidays is a good idea.
For easy topping up with water. Make a hole on the end of the bottle, the size of a cork. This can then be used to top up water and re plug with cork to avoid water evaporation. If you have a larger planter two or more bottles can be used. Dig a hole in your planter deep enough so that the lid of the bottle is close to the roots of the plant and secure so that it won't tip over. Self watering containers are available from most garden centres.
4. Stake up all tall plants. There is nothing worse then coming back to your beautiful sunflowers bent over or broken.
5. Place all houseplants in your bath and wrap over the top with clear plastic. Do not allow plastic to touch the tops of your plants. Add a little water to the bath. This will create a greenhouse effect and stop your plants drying out. This can also be done with your outdoor pots. Water them and place a clear plastic bag down over top, secure underneath. Place a few small holes in the plastic.
6. Spray plants with insect repellent, or natural insect repellent. We do not want to return to chewed up plants.
7. Feed, water and dead head all plants the day before you leave for your holidays, this will help to avoid excess maintenance when you arrive home. This is something we do regularly here in Flowers Now in balbriggan. It is hard enough coming back home off a lovely holiday without arriving to a number of jobs on top of unpacking.
8. If you are still concerned about your beautiful plants call in your friendly neighbour to check on them and offer to return the favour when he/she goes on holidays.
BIO
Ruth Gallagher is the Lead Florist at FlowersNow.ie and write and blogs about all things Flowers and Florists in Balbriggan, Dublin and Ireland

FlowersNow is an Retail and Online Florist located at 44 Dublin street, Ballbriggan, Co Dublin. We have an excellent team of highly qualified florists, with years of experience in floral needs, bouquets, giftware, weddings, corporate events & funeral flowers. Trust us for all your special events including Valentines Day, Mothers day, Easter & Christmas.
Copyright FlowersNow.ie