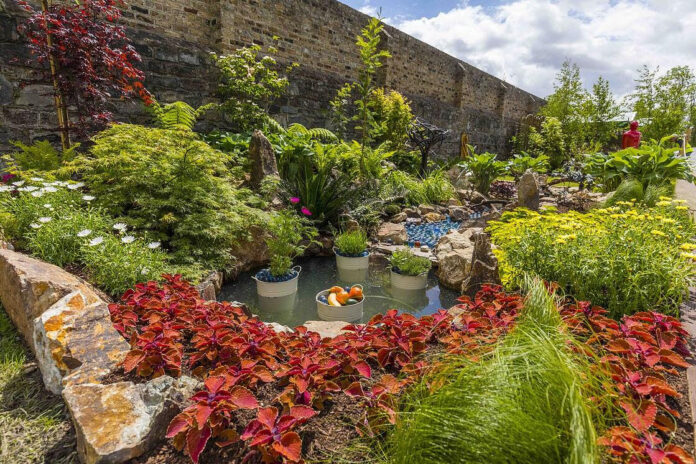 Big things are happening in the Phoenix Park this week as preparation advances for Bord Bia Bloom. Show Garden Manager, KERRIE GARDINER, updates us on the progress of our flagship show gardens.
We are two weeks into building Bord Bia Bloom and it is buzzing onsite this week. Nearly all of our 20 show gardens and feature gardens have now started construction and the large and medium gardens are beginning to take shape. Their boundaries are well-established and the big trees are being craned in. The landscape contractors will then work the hard landscaping around the trees in readiness for planting, which commences next week.
Bord Bia Bloom 2019 Show Gardens
This is such an exciting time to be onsite. I love seeing the trees arrive and we've taken delivery of some beautiful specimens; expect to see lots of alders, birch and mountain ash. I think the show gardens are going to be really special this year. Some have been on the drawing boards since 2020 so it's exciting to see them finally coming together. Many experienced designers are returning along with some new talent who are participating in Bloom for the first time.
It's a challenging time to build a show garden. There is high demand for plants, materials, and of course skilled craftspeople, but we are fortunate that we have great teams working on Bord Bia Bloom. The show garden designers have risen to the challenges and are now busy splitting their time between checking progress onsite, visiting nurseries to monitor how the plants are coming on, and finalising other projects before starting full-time on site in the coming weeks.
It is nerve-racking when you're working with living things like plants. You are at the mercy of the weather so it can be tense when plants don't develop as you had envisaged but it always comes together in the end. The nurseries supplying the garden designers are all hard at work making sure the plants will be at their peak come the June Bank Holiday weekend.
Planting will continue for the next couple of weeks, allowing plants time to settle and adjust to their temporary new home. All construction finishes on Sunday, May 29th and the designers and their teams will spend the Monday of Bloom week dressing the gardens to get them ready for the arrival of the judges and photographers on Tuesday. The Wednesday before Bloom opens is one of the busiest days onsite as judging is completed and Bord Bia hosts the media.
Kerrie Gardiner, Bord Bia Bloom Show Garden Manager
It's always a race to the finish. There are long days and some sleepless nights but it will be worth it when the show garden awards are announced and the doors officially open to the public on June 2nd. One of the best parts of my job is seeing people visit the show gardens and enjoy the spectacle. There will be much to entertain you this year and we hope you will pick up plenty of inspiration for your own garden or outdoor space.
Click here to get a glimpse of the show gardens planned for Bord Bia Bloom. Don't forget to book your tickets in advance to make sure you can attend on your preferred day.
Win Tickets to Bloom!
Bord Bia is giving away TWO FREE TICKETS to Bloom to one reader of this week's ezine. Entries close at midnight on Monday, May 16th.
Some T&Cs apply. See them here.