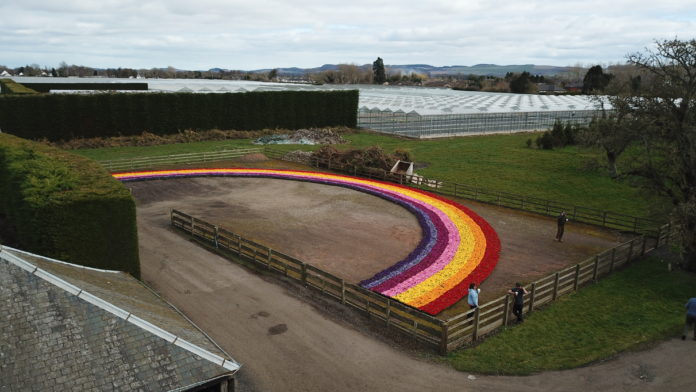 We have all seen the pictures of empty pubs, cinemas and high streets and heard so many upsetting and tragic stories. Horticulture too has a story of loss and sacrifice, and the lockdown could not have come at a worse possible time for us. Before the spring is done, many millions of plants will be composted. However, springtime is a time for renewal, so our story is also one of hope.

We in the Scottish industry have come together to create something – a message of hope for all that are suffering. With plants destined for the compost heap and packs for recycling. We'd like to share with you our interpretation of the worldwide symbol of hope.

Florainbow of Hope

The growing and the planting of plants is one of the most optimistic things people can do – we plant with the expectation for future reward, we all plant for tomorrow. Don't stop thinking about tomorrow, don't stop thinking about your garden. As we look forward to tomorrow, why not create your own interpretation of the Florainbow of Hope. We must thank Garry Young and his family for bringing this living flowering rainbow to our screens.
"Through the sheer sadness and financial losses we all face due to COVID-19, yesterday we took pride and had smiles on our faces when making this living Rainbow of Hope", Garry Young.
We will get through this, together.