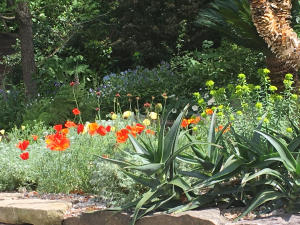 We just didn't do Sarah Eberle justice when we sent out a previous notice about her. She is such an accomplished and fascinating designer, we just had to share this updated information with you!

 For a chance to see her talk and ask her a few questions this weekend, see www.glda.ie to buy your ticket now.
Since 1990 Sarah has been awarded 17 RHS Gold Medals including Best in Show at both Chelsea Flower Show in 2007 and Hampton Court Flower Show in 2003. In 2015 her Gold Medal Artisan Garden for The Haven also won the People's Choice Award while her 2016 Gold Medal Artisan Garden for Viking Cruises won Best in Category. She has also won the George Cooke Medal for Design Innovation twice since 1990. Sarah has now won Gold in more categories at Chelsea than any other person.
 Sarah was awarded the BALI Grand Award in 2007 for a private garden and was awarded an Honorary PhD in Design by Greenwich University in 2008. More recently she was part of the team that won the SGD Community Space Award for Gibbon's Rent on the South Bank.
In 2017 Sarah was awarded The Royal Horticultural Society Associate of Honour, a lifetime award with only 100 living recipients allowed at any time.
The majority of Sarah's work involves following private predominantly rural gardens associated with either major refurbishment or new build and becomes involved during the early stages of planning. This combines her Landscape Architecture and garden design skills perfectly. She has exhibited her work in New Zealand, Singapore, South Korea, and Japan and currently works in the UK and Internationally.
Sarah's work is of a Fusion style but majors on contemporary work with an innovative edge. She is renowned for her work on sustainability and environmental issues. She is a RHS Council member, RHS Judge and a member of the RHS Gardens Advisory Committee with special reference to RHS Harlow Carr.
Sarah is currently working on a Resilience Garden in Normandy France as an experimental project in environmental and human sustainability, which she will talk about at the GLDA seminar on Saturday 27 February. It will facilitate training, professional interaction and the development of ideas.