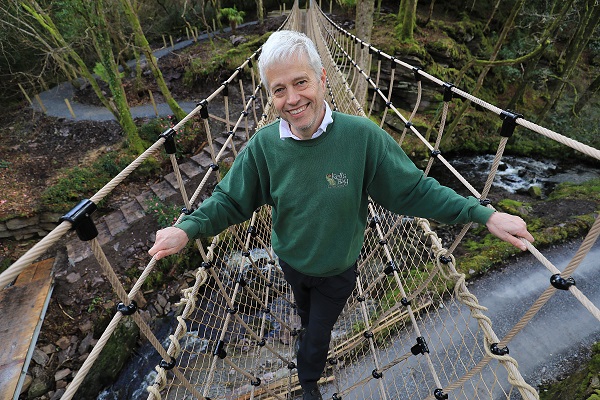 Hot on the heels of his appearance at the RHS Chelsea Flower Show, Kells Bay House and Gardens owner and fern-lover Billy Alexander has been chosen once again to be one of the exhibitors at Ireland's most prestigious show Bloom. This year is the eleventh year of this hugely popular festival which will be held at Phoenix Park during the June Bank Holiday weekend from 31st May to 4th June 2018. Thanks to the generous sponsorship by Wilde Aparthotels by Staycity, Billy Alexander's garden will be known as 'The Wilde Atlantic Garden'.
Billy is eager to show the world a bigger example of his uniquely curated, densely matured and extensive tree-fern forest. Commenting on this, Billy said: "I chose the tree-fern theme for this years' show because I want to portray the importance of their preservation around the globe."
Last year Billy won the "Best in Show" award for his 20-square-metre garden and this is his eleventh appearance at Bloom.
Billy went on to say: "We are thrilled to be chosen once more to exhibit at Bloom this year. Our aim is to showcase the magnificence and beauty of ferns from around the globe. The exhibit will revolve around the exotic, natural environment of the fern and their role in the evolution of plants."
Originally developed by the Blennerhasset family in the 19th Century, Kells Bay's 44-acres of wildly overgrown *Robinsonian heritage gardens were recovered and the ongoing restoration was started by Billy and his wife Penn in 2006. It is now a true piece of heaven on earth, containing some of the rarest and most exotic plant species in the world.
Kells Bay Gardens has a truly unique localised climate which enables many exotic plant species, such as tree-ferns, to thrive. It also functions as a plant nursery and supplies a range of expertly nurtured and extremely rare species.