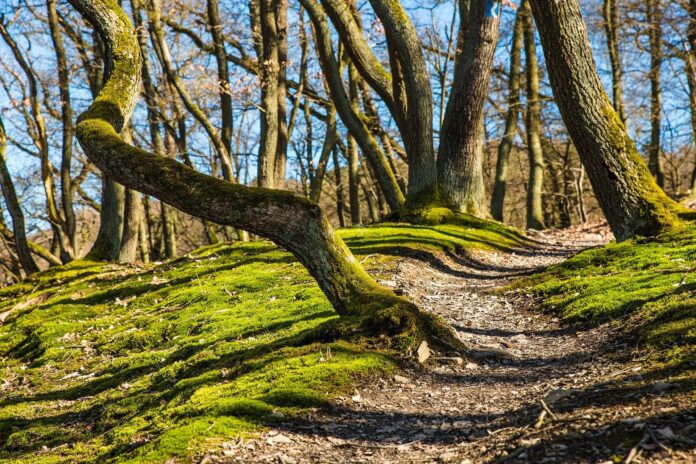 The Minister of State in the Department of Agriculture, Food and the Marine, Senator Pippa Hackett, has announced that the Project Board which is to oversee the delivery of 'Project Woodland' has held its first meeting.
Referring to the meeting which was held yesterday afternoon, the Minister said, "The speed with which the Project Board and the Chairs of the Working Groups have come together is a clear indication of the sense of urgency and commitment which my Department and stakeholders are bringing to Project Woodland. We must both resolve current difficulties in the forestry sector and revitalise the creation of woodland in Ireland. I believe that this project with its dedicated project management structure will help us do that.  I am particularly grateful to the independent members who have agreed to help us as either part of the Project Board or Chairs of the Working Groups. Project Woodland can only deliver if everyone pulls together and  I am very much looking forward to the Stakeholder Working Groups having their first meetings in the very near future."
The Minister confirmed the membership of the Project Board and also announced the names of those who have been asked to chair the four Working Groups.  The Project Board will consist of chairperson Brendan Gleeson, Secretary General of the Department of Agriculture, Food and the Marine, Jo O'Hara and two other external members with experience in project governance, Jerry Grant and Sarah O'Shea.  The Working Groups will be chaired by Michael Cantwell, Dr Matt Crowe, Professor Thia Hennessy and Michael Layde.
Announcing those appointments, the Minister added, "I am very pleased that these four highly respected and experienced people have accepted the roles and I look forward to working closely with them.  Each Working Group will include a number of stakeholders and will be responsible for delivering key objectives as identified in Jo O'Hara's report."
The Project Board agreed that the Working Groups should convene immediately to agree deliverables and project milestones. These will be reported to the project Board for its approval.  The Board also agreed on the specification for a dedicated project management resource to be appointed to support the project and it agreed on the need for clear and transparent communications with the full spectrum of stakeholders and will deliver a communication strategy to ensure that citizens are fully informed on progress and on a wide range of forestry issues.
Concluding, Minister Hackett welcomed the establishment of the new Governance structure as a first critical step in delivering a forestry policy that meets the needs of citizens and industry.
 
Project Board Member
1
Mr Brendan Gleeson – Chairman, Secretary General, DAFM
2
Ms Jo O'Hara, FutureArk Ltd.

Jo O'Hara was formerly Chief Executive of Scottish Forestry, a Forestry Commissioner and Head of Forestry Commission Scotland and is currently working as a consultant and non-executive Director. She was appointed by Minister Hackett to oversee the finalisation of the Mackinnon Implementation Plan.

3
Mr Jerry Grant, Jerry Grant & Associates Ltd

Chartered Engineer, specialising in the water and environmental sector. He served as Managing Director of Irish Water between 2014 & 2018 having helped establish the utility following a career in the private sector. He currently serves in a number of non-executive roles including Chairman of Dublin Port Company, Director of Sport Ireland and External Member of the Governing Body of TU Dublin.

4
Ms Sarah O'Shea, SOS Sports Consult

Qualified solicitor (2000) and holds an International Masters in Sports Law and Management (2006). Following 6 years working in general legal practice she moved into sport, working as an in-house lawyer for 10 years and then moved into consultancy in 2016. She has run her own consulting business since 2016 offering specialised and bespoke governance services for a number of governing bodies in the not for profit sport and pharma/medicines sector.
 
Working Group Chairpersons
1
Mr Michael Cantwell

Michael Cantwell is a former Director of Enterprise Ireland. He was appointed as Director of the Food Division of Enterprise Ireland in 2011 and during his time there, managed many industry sectors departments, including Telecoms, Media and Education. A chemical engineer by training, Michael spent his early professional years in the Pharmaceutical Industry before joining the Irish Industrial Development Authority (IDA).

2
Dr Matt Crowe

Matt Crowe served as a Director of the Irish Environmental Protection Agency from April 2010 to April 2020 with responsibility for the Office of Communications and Corporate Services from 2010 to 2013 and the Office of Evidence and Assessment from 2013 to his retirement in 2020. Prior to this he worked for the EPA for fifteen years in a variety of management and scientific roles. Before joining the EPA, he worked in Vancouver, Canada for five years conducting contract research in applied environmental sciences.  Matt holds a B.Sc. and Ph.D. in biochemistry from UCD.

3
Professor Thia Hennessy, University College Cork

Professor Thia Hennessy is Dean of School and Chair of Agri-Food Economics at Cork University Business School. Thia is a member of a number of international research consortia examining issues such as the economic performance of farms, the sustainability of food production and the impact of climate change on agriculture. She has published widely in both the academic literature and mainstream media. Prior to joining UCC in September 2016, she was employed by Teagasc, where she managed the agricultural and environmental economic research programme. She was also responsible for the Teagasc National Farm Survey which produces the official national statistics on farming in Ireland and is a member of the European Commission's Farm Accountancy Data Network.

4
Mr Michael Layde

Michael Layde is a former Assistant Secretary General in the Department of the Environment having led the Department's Housing Division prior to his retirement. He had previously held positions as Assistant Secretary General of the Environment Division and Principal Officer in several of the Department's areas of activity. He had been with the Department since 1995, having previously worked in the Department of Health. He continues to engage in various activities including serving as Chairperson of Focus Ireland, acting as a non-executive director of Repak ELT, membership of the Audit Committee of DECC and providing interviewer services to the Public Appointments Service.
The Jo O'Hara and Mackinnon reports are published on the Department's website at:
www.gov.ie/en/collection/e43d8-forestry-policy-group-chaired-by-mos-hackett/
and gov.ie – Review of the Appeal Process for Afforestation In Ireland – McKinnon 2019 (www.gov.ie)