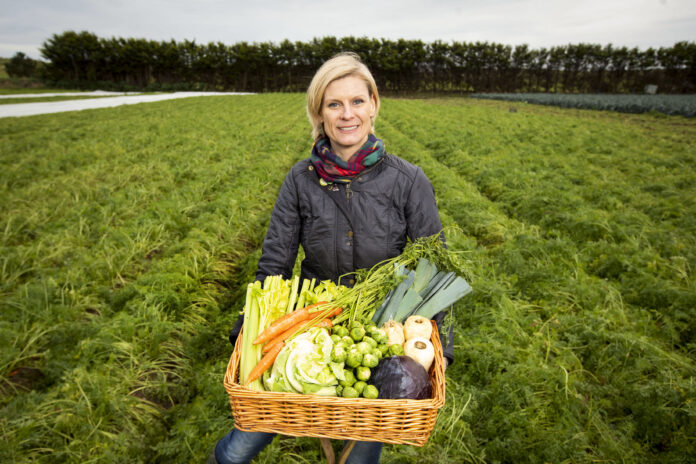 Recognises the range of qualify vegetables being produced
Urges consumers to buy, cook and eat Irish vegetables this Winter
The Minister of State with responsibility for Horticulture in the Department of Agriculture, Food and the Marine, Senator Pippa Hackett, has urged Irish consumers to buy, cook and eat Irish vegetables this Winter.
During a visit to vegetable growers in North County Dublin, the Minister pointed out the benefits or buying fresh produce in season.
She stated,
''There are few better ways of staying healthy than by eating well, and fresh, locally grown vegetables contribute hugely to that.  They are key to a balanced diet and to fending off colds and flu and to dealing with the stresses and strains which can be associated with this time of year.''
Highlighting the range of vegetables growing at the moment, the Minister continued,
''While vegetables such as cauliflower and cabbage thrive all year, this is also the season for root vegetables. Fresh Irish carrots, parsnips, turnips, onions, swedes, sprouts, cauliflower and broccoli all are both delicious and versatile, and can make up a wide range of dishes."
The visit to the growers coincided with the launch of The Festive Food Heroes Campaign by Agri Aware.  Commenting on that campaign, which highlights all the different producers who make our Christmas dinner possible, the Minister added, ''Of course it's also the season for Brussels sprouts. Christmas wouldn't be Christmas without sprouts.''
The Minister said that both during this Christmas season, and year round, she was asking consumers to consider their responsibilities as well as their options when it comes to choosing their veg.
She added,
''This is not just about the excellent quality of the Irish root vegetables which are available.  It's also about sustainability.  I believe that as consumers we all have a responsibility to buy local so that unnecessary food miles, which are a significant factor contributing to climate change can be eliminated.''
Pointing out once again that it was a case of individual consumer choice, the Minister said,
''At the end of the day our producers will survive only if our consumers buy from them and support them.  So when you are buying fruit and veg this Winter, looking for something comforting and nutritious, please check the label, and find Irish and buy Irish.''
Minister Hackett concluded by restating her strong commitment to the future of the horticulture sector saying,
''Budget 2021 provided an additional 50% support to the scheme for Investment Aid for the Development of the commercial horticulture sector. Horticulture has huge potential and this increase from €6m to €9m will support current producers to develop further, and also attract new operators into the sector. As I said then, I want to see increased import substitution, as well as development of key market opportunities."
The vegetable producers Minister Hackett visited are:
McNally's Family Farm, Balbriggan, Co Dublin
Jimmy Farrell, Rush, Co Dublin
Paul Carroll, Lusk, Co Dublin
Enda Weldon, Swords, Co Dublin.