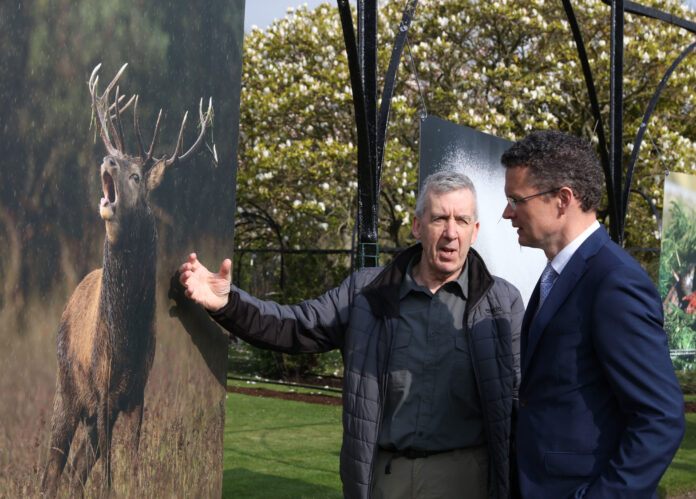 With only hours to go before this year's winner of Ireland's national photographic competition is revealed on RTÉ One's Today show, Minister of State with responsibility for the Office of Public Works, Patrick O'Donovan, met the 12 finalists selected from over 3,000 submissions received at the National Botanic Gardens Glasnevin.
He was welcomed by the OPW's Director of the National Botanic Gardens, Matthew Jebb, one of the competition's three judges.
Admiring the incredible talent on display in the Botanic Gardens, Minister O'Donovan spoke to each photographer and commended them: "Each and every one of these photographs is a wildlife shot that seems to have a finger on the pulse of life itself and allows us a rare, close-up look at creatures both great and small in their natural habitats. While the photos themselves capture the animals so naturally, I can only imagine the skill and patience involved in landing such picture-perfect shots. 
I really don't envy the three judges their task of picking a winner among these stunning photographs submitted. But I would encourage everybody with an interest in photography and nature to come and enjoy these contenders for themselves, either here in the wonderful National Botanic Gardens Glasnevin or at the other OPW heritage sites where the exhibition will travel in the coming months."
Now in its second year, Eye on Nature at the National Botanic Gardens is a partnership between RTÉ and the Office of Public Works. The other two judges on the panel are award-winning filmmaker Anne Sommerfield and wildlife photographer Mike Brown. Along with a €1000 cash prize, the winner will be presented with a trophy by RTÉ's Derek Mooney and Matthew Jebb.
The exhibition of finalist images is due to tour first to Dublin Castle on 6 June to coincide with the National Biodiversity Conference taking place on 8 and 9 June. As a special tribute, both the 2022 and the 2021 finalist photos will be on display outside the Printworks. From there, the exhibition will travel to Portumna Castle later in June and on to Athenry Castle.
Tune in to Today from 3.30pm on RTÉ One to see all 12 finalists, along with their images in the National Botanic Gardens.  The overall winner of the competition will be announced live after 5pm.
The work of the 12 finalists can be viewed here.