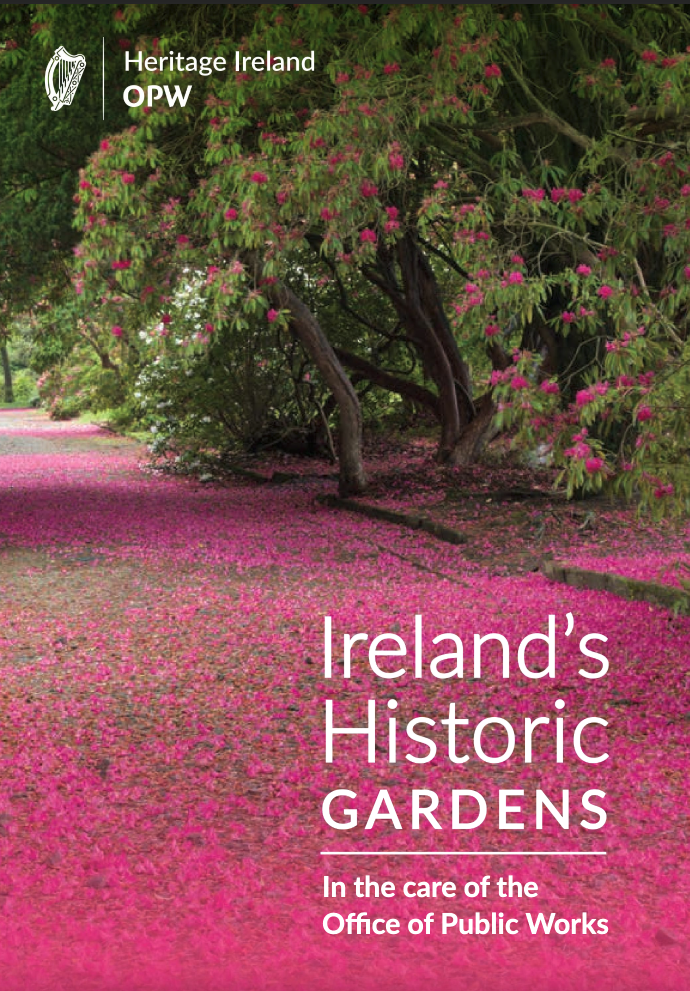 The Office of Public Work (OPW) has today launched a new Visitor Guide to Ireland's Historic Gardens which the OPW holds in trust for the Nation.
This comprehensive guide to each of the OPW's 32 stunning gardens includes some of Ireland's most iconic gardens and celebrated plant collections, from the internationally renowned National Botanic Gardens at Glasnevin in Dublin to Ilnacullin / Garnish Island with its collection of exotic and rare southern hemisphere plants.
Launched by the Minister for the OPW, Patrick O'Donovan T.D. at Bord Bia Bloom hosted in the OPW's Phoenix Park, the festival's over 100,000 garden enthusiasts and visitors will be among the first to pick up a copy over the five-day event. Digital copies are now available at www.gov.ie/opw.
Each garden offers a unique experience of OPW and showcases the year-round work of its professional gardeners and dedicated grounds people. Discover the exotic plant collection at Annes Grove, Co. Cork or the fully restored seventeenth-century formal gardens at Portumna Castle in Co. Galway.
Enjoy a spectacular day out among the 4,500 trees and shrubs – some dating back to the age of the dinosaur – at the outdoor museum of trees that is the John F Kennedy Arboretum in New Ross, Co. Wexford, or stroll among the ferns to locate the rare Strawberry Tree in Co. Kerry's Derrynane.
The OPW's Historic Sites and Gardens attracted over 15 million visitors last year, building on strong visitor footfall since the pandemic as people began to explore their local environs and amenities, and holidayed in other parts of the country – many for the first time.
OPW's Guide to Ireland's Historic Gardens is intended to further open the door to its full estate of stunning grounds and spectacular displays of flora and fauna for visitors and enthusiasts alike, providing an additional resource to those working across the Irish tourism, wellness and horticultural sectors.
Minister for the OPW, Patrick O'Donovan T.D. commenting at the launch on the work of OPW gardeners across the country, said:
"We are so fortunate to have such a dedicated team of horticulture specialists, skilled botanists, craft gardeners and grounds staff working across OPW's 32 Historic Gardens. I want to recognise their role as custodians of Ireland's finest gardens and landscapes for future generations. Their work today requires constant innovation and response to changes in climate, emerging plant diseases and other challenges in the natural world. I would encourage people at home to come out and share in the pleasure of visiting these historic gardens, and I know that the new guide will be a source of inspiration to many this summer."
Rosemary Collier, Head of Heritage Services and Capital Works Delivery with the OPW, said:
"The OPW manages a remarkable and historic array of outstanding gardens. From the formal seventeenth-century Italian renaissance gardens at Portumna House; the eighteenth-century great parks such as Castletown; the nineteenth-century Paradise Gardens of including Altamont; the Victorian splendour of the People's Garden in Phoenix Park; to the twentieth-century creations of Sir Edwin Lutyens including the Irish National War Memorial.
"The OPW takes pride in recording and preserving for future generations these classic, historic, and individualistic gardens. We endeavour to preserve that diversity, and uniqueness of place that gives each garden its unique balance of drama, romance and distinction."
The OPW has a major role to play in preserving the Nation's biodiversity, with responsibility for 5,700 acres of historic parks, botanic gardens and designed landscapes. There is a range of initiatives in place across OPW sites to promote biodiversity, such as the semi-natural grasslands planted at Castletown, tree-planting programmes ensuring that collections of native and exotic trees grow year on year and the OPW Swift Initiative aimed at the long-term conservation of a bird closely associated with many of its sites.