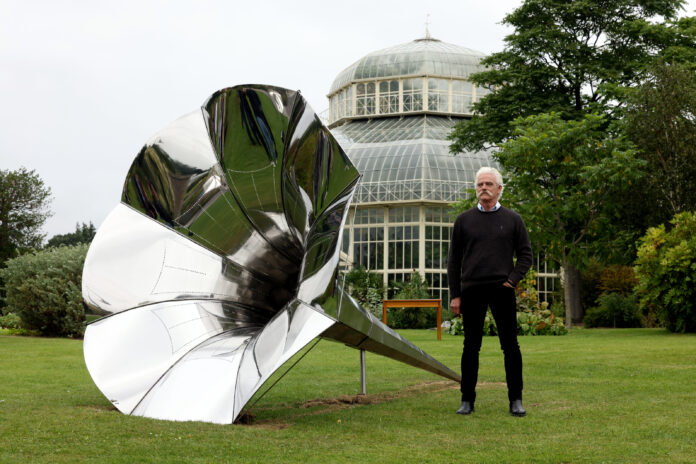 The OPW is delighted to host the 35th Sculpture in Context exhibition at the National Botanic Gardens, Glasnevin. As the longest-running, largest and most important sculpture exhibition in the country, this pivotal event in the Irish arts calendar attracts a large public and critical audience and is the cultural highlight of the National Botanic Gardens calendar. It runs until 15 October, is free of charge and open daily.
The 164 artworks in this year's exhibition receive a spectacular presentation throughout the 50 acres of beautifully landscaped grounds, allowing visitors to discover sculpture in the most unexpected and surprising places. About a third of the works are on view in the Gallery upstairs in the Visitor Centre.
Not to be missed are the works of the winners of the Goodbody Awards:
Martin O'Keefe (Listen to Her), winner of The Goodbody Outstanding Artist Award
Frank Hallinan Flood (Dragonfly), winner of The Goodbody Award for a work of distinction in any medium
Patrick McCormack (Fly Me to the Moon), winner of The Goodbody Award for a work of distinction in any medium
Ellen Cassidy (Anatomical Votives Socialising), winner of The Goodbody Graduate Award
Bringing together the work of over 140 artists – including Sara Cunningham-Bell, Remco de Fouw, Maree Hensey, Penelope Lacey and Martin O'Keefe – using an incredible range of media, these works of art represent the richly diverse character of Irish and international contemporary sculpture. From the smallest, most intricate ceramic works to stone sculptures of a monumental scale, visitors to the exhibition will be enriched by the experience of viewing such inspiring works in one location. The artistic integrity and technical skill involved in creating the works is evident throughout and highlights the breadth and depth of artistic talent and skill in Ireland today.