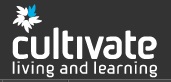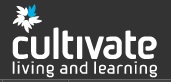 Learn Permaculture design, how we can live more sustainably, grow food intensively and create livelihoods within our own communities. Three Weekends: 25 – 26 April, 9 – 10 and 23 – 24 May 2015 | Cloughjordan Ecovillage, Co Tipperary | €350 (Secure place with €75 deposit) | Contact us with this form or at 0505 56060 | POSTER
This FETAC L5 accredited Permaculture Design Course* provides participants with a balanced combination of theory and outdoor practical place-based learning. The course emphasises both ecological and social permaculture covering topics such as perennial plants, agro-forestry, soil health and new ways of thinking about land management. A lively, participatory and thought-provoking experience is guaranteed.
*This course can be taken alone or when taken with Applied Permaculture Design, FETAC L5, can lead to a full UK Permaculture Design Certificate. The Weekend Permaculture and Applied Permaculture Courses are delivered by NICER Training, the FETAC accredited provider, in partnership with Cultivate.
What is permaculture?
The word 'permaculture' comes from 'permanent agriculture' and 'permanent culture'. Permaculture applied to farming and gardening promotes organic methods of managing land in such a way as to increase soil carbon, protect and enrich the soil and boost biodiversity. Applied to society and 'culture' it supports communities in becoming more resilient. The essence of permaculture is the design of an ecologically sound way of living – in our households, gardens, communities and businesses – and cooperating with nature and caring for the earth and its people.
Rather than a discipline, Permaculture presents us with a set of design principles derived from the observation of natural ecosystems. These principles are then used to develop integrated systems that provide for our needs of food, shelter, energy and community in ways that are healthy and efficient. We can use permaculture design methods to improve the quality and productivity of our individual lives, our society and our environment.
Who should take this course?
This course is for anyone interested in learning how Permaculture Design can be applied to their farms, gardens, homes, lifestyles, communities, etc. Open to anyone aged 16 or over. No prior knowledge of permaculture is needed.
Unique setting
Cloughjordan is home to Ireland's first Ecovillage and winner of Ireland's national Green Community award. The Ecovillage includes over 50 high energy performance houses on a 67-acre estate. The land is zoned for food growing, community woodlands, renewable energy production, with a district heating system, a wood-fired bakery, research gardens and Cloughjordan Community Farm.
The course will be held in the brand new WeCreate Enterprise Centre, which along with meeting rooms, classrooms and a co-working space, will feature a community fabrication laboratory. This setting provides participants with an opportunity to see many key sustainable systems in working practice.
Accommodation
Django's Hostel has single rooms from €35 per night and shared accomodation from €20 per night. Book early at +353 (0)87 256 9348. For a comprehensive list of local B&B's please contact us with this form.
How long is the course?
This course consists of 48 contact hours over 3 weekends (Fridays Optional).
Times: Fridays (Optional) 19:00 – 21:30 | Saturdays 09:00 – 18:00 | Sunday 10.00 – 16.30
How much will this cost?
Permaculture Design – €350.00 for 3 weekends. Enquire about concessions. Price includes lunch Saturdays and Sundays. A two course dinner is available on the Fridays at €10 per person.
Deposit of €75 secures your place. Pay Deposit Now by PayPal or send a cheque made out to 'Cultivate' to Philippa Robinson, Cultivate Office, 2 An Cosán Cúil, Cloughjordan, Co Tipperary.
Technical employment support grant may be available. Please contact your local employment office.
Accreditation:
FETAC component certificate, Permaculture Design (5N1617), Level: 5, Credit: 1. Link to the FETAC Component Specification (pdf)
The course can be taken alone or followed (within 2 years) with Applied Permaculture Design, FETAC L5. We have recently made changes to our course curricula to be able to offer to those who take both FETAC courses, a UK Permaculture Association Design Certificate, recognised internationally by the Permaculture community.
NICER Training is the FETAC accrediated provider working in partnership with Cultivate.
About FETAC
The Further Education and Training Awards Council (FETAC) is the statutory awarding body for further education and training in Ireland. FETAC makes quality assured awards that are part of the National Framework of Qualifications (NFQ) from levels 1-6. Meeting learner need is central to the work of FETAC. FETAC makes and promotes awards on the National Framework of Qualifications, determines standards and award requirements, validates programmes leading to awards, and monitors and quality assures programmes and services. Visit the FETAC website: www.fetac.ie Please see www.citizensinformation.ie for further guidance.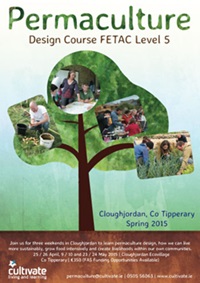 Source: Cultivate – Permaculture in Cloughjordan in the Spring and Summer