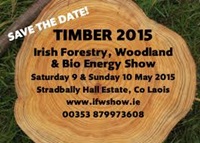 TIMBER 2015!
Ireland's national & largest specialist bi-annual forestry show with bio energy sector, is now in its third year. Minister Show Opening: The Show will be opened 'officially' at 12 noon on Saturday 9 May by Minister Tom Hayes, Minister of State for the Department of Agriculture, Food and the Marine.

SHOW SPEC:
2 day specialist show including: woodland & open exhibitor areas; wood processing machinery in action; demonstration arena: Husqvarna Irish National Tree Climbing Championships; Husqvarna timber extreme sports competitions; Komatsu forwarder competition; Teagasc forestry research & education; bio energy & heating; Trojan heavy horse logging; tree carving/chainsaw carving; woodland crafts; wildlife conservation bodies … all in the setting of a beautiful wooded parkland estate.
EXHIBITORS:
Very heartening upward trend as bookings are particularly high for this reasonably early point. 2015 Forecast: 130; 110 in 2013 and 90 in 2011. International & Irish exhibitors. Including sole traders & industry giants.
SCOPE/TARGET PROFILE:
The Show is aimed at and of value to a wide range: timber growers both commercial & recreational; landowners considering the potential of investment in forestry; timber buyers & processors; contractors; tree surgeons; arboriculturists; landscapers; gardeners; forest & bio energy machinery & equipment manufacturers; heating & wood stove specialists; timber artisans; nurseries; conservationists; and basically, anyone with an interest in wildlife & woodland countryside.
DATE:
Saturday 9 & Sunday 10 May 2015. (NB Change from the Fri/Sat slot to an exhibitors' suggested & preferred, Sat/Sun slot.)
SHOW HOURS:
9.30 am to 5.30 pm.
LOCATION:
Same time, same place! Stradbally Hall Estate. The estate proved an ideal venue in 2013, hence the repeat slot. It is located near Portlaoise off the M7 with easy access from Dublin airport and Dublin ferries. It has a network of hard roadways ideal for access for all types of machinery, in all types of weather.
FOOD & DRINK:
Hearty & artisan food plus importantly and by popular demand, a beer tent!
SPONSORS:
Including Husqvarna; Irish Farmers' Journal.
VISITORS:
Approximately 5000 over 2 days. NB A boost forecast with significant (one third!) reduction in ticket prices, see below.
TICKETS:
€10 per person.
KIDS:
FREE! NB Only children accompanied by an adult allowed entry.
PARKING:
FREE! Parking on the estate in very close proximity to the Show.
SHOW DIRECTOR:
David Wilkinson; 00353 87 997 3608; davidwilkinson@eircom.net.
Source: IFW Show – Timber 2015 Irish Forestry, Woodland and Bio Energy Show