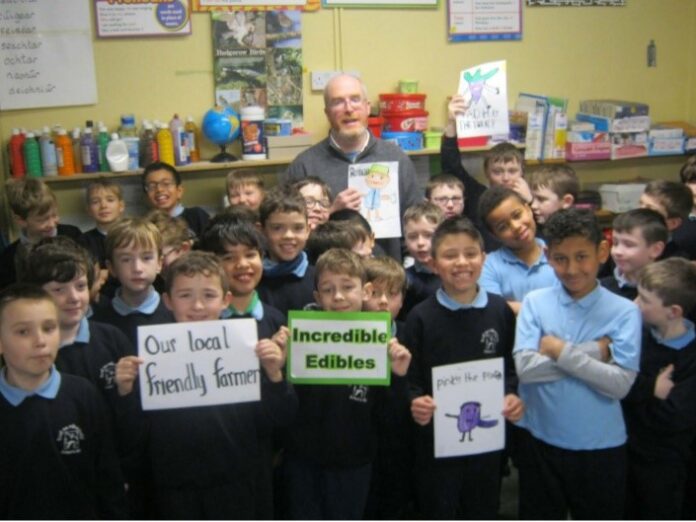 Two Schools in Galway and one in Wexford have been named as the overall winners of Agri Aware's Incredible Edibles healthy eating and growing project. The project saw over 25,000 students from over 1,000 schools participate in the agriculture and food education body's popular primary school programme.
Despite school closures in March, teachers continued to take part in the project by sending their students videos of their vegetable and herb plants progress, as well as students cooking and eating their 7-a-day from home.
Ms Helena Hyland's 3rd class from Boys National School, Athenry, Co Galway were crowned first place winners of the project and will receive a prize of a growing sun-bubble dome for the whole school.
Mr Jarlath Conboy's 1st and 2nd class from St Patrick's Boys and Girls Primary School, Galway City took home second prize, claiming a double win for the county. They will receive a greenhouse for their school.
Finally, Ms Mary Kehoe's 1st class, St Anne's National School Co Wexford won the third-place prize of a growing table-top garden for her class.
With one-third of all Irish primary schools taking part in the project, these top schools showed great resilience and creativity throughout the challenging period of school closures. They successfully continued to grow, cook and eat the healthy vegetables provided within the school seed pack, facilitated by Agri Aware.
From food origin and identifying Irish produce, to growing, cooking and eating healthy Irish fruit and vegetables, the project aims to cover all aspects of learning where your food comes from and the importance of the food pyramid for a healthy balanced diet.
This project has never been more relative in today's times, as it encompasses a strong essence of the importance of food security and of supporting Irish circular economies.
Agri Aware Chairman, Alan Jagoe praised the winners of Incredible Edibles project for their efforts and thanked both teachers and families for continuing to make the project an ongoing success.
"We are delighted to have received so many entries for the Incredible Edibles school project this year. Irish teachers have shown true resilience in keeping the project ongoing, despite these difficult past few months of school closures and limited accessibility within teaching".
"Students continued to grow and cook their vegetables from home while sharing their experience with their teachers using modern technology. We commend all who stayed proactive within the project, and in learning to adapt to a new way of teaching and learning through these challenging times".