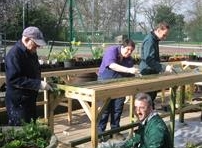 Would you like to become a Social and Therapeutic Horticulture Practitioner to benefit others?

Would you like to learn how to harness and maximise the therapeutic benefits of gardens and gardening?

Are you a Healthcare Practitioner, Social Care Practitioner, Green Care Practitioner, Horticulturist or a Horticulture Educator?
Festina Lente & Thrive have just the courses for you!
Our courses in Festina Lente Gardens provides information, skills, techniques and confidence in using social and therapeutic horticulture to support and help others. Exploring evidence-based practice and theoretical underpinning to consider the practical application of horticulture as therapy.
Organised therapeutic horticulture programmes have been shown to increase self-esteem and self-confidence, develop social and work skills, improve literacy and numeracy skills, increase general well-being and promote social interaction.
Learn how to use Social and Therapeutic Horticulture to benefit people with mental health support needs – 8th & 9th September 2018
Setting up a Social and Therapeutic Horticulture Project – 6th & 7th October 2018
Learn how to use Social and Therapeutic Horticulture to benefit people with learning disabilities – 27th & 28th October 2018
More details including booking information on www.festinalente.ie