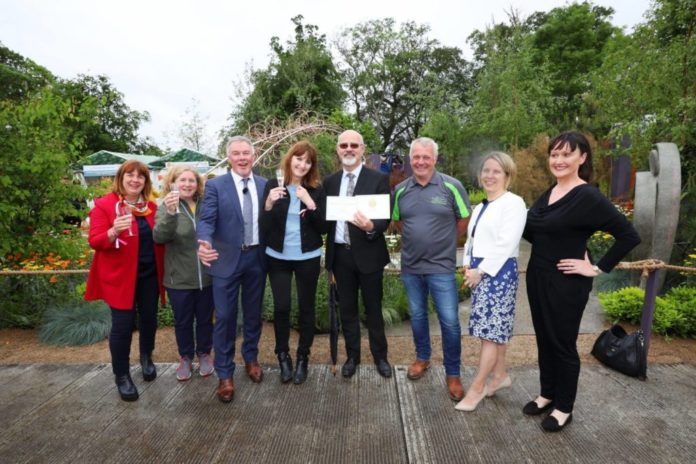 Best in Category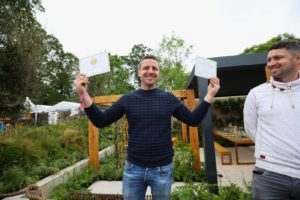 Large: Vina Doña Paula – A Matter of Altitude – designed by Alan Rudden for Santa Rita
Medium: Enable Ireland's Diversity Garden in association with Solus – designed by Linda McKeown for Enable Ireland
Small: Tóg go Bóg é (Take it Easy) – designed by Patricia Tyrell and VTOS Horticulture Cabra Community College students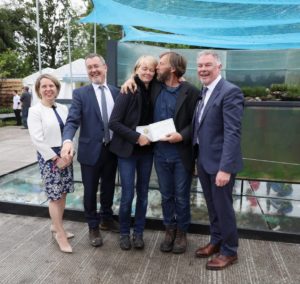 Concept: Bord Iascaigh Mhara's (BIM) Aqua Marine Garden – designed by Oliver & Liat Schurmann (Medium Concept)
Planting: Grounded – Growing Conversations Around Mental Illness – designed by Maeve O'Neill for Janssen, in association with Aware and See Change (Large Garden)
Gold Medal Winners
Vina Doña Paula – A Matter of Altitude – designed by Alan Rudden for Santa Rita
Enable Ireland's Diversity Garden in association with Solus – designed by Linda McKeown for Enable Ireland
Tóg go Bog é (Take it Easy) – designed by VTOS Horticulture Cabra Community College students and Patricia Tyrell
Bord Iascaigh Mhara's (BIM) Aqua Marine Garden – designed by Oliver & Liat Schurmann (Medium Concept)
Grounded – Growing Conversations Around Mental Illness – designed by Maeve O'Neill for Janssen, in association with Aware and See Change (Large Garden)
Moving Forward – Building My Best Possible Life – designed by Rúaidhrí Bashford for Cheshire Ireland (Small Concept Garden)
The Healthy Way Garden – designed by James Purdy Architects for Healthy Ireland and Bord Bia (Large Garden)
The Blackwater Gin Garden – designed by Peter Cowell and Monty Richardson for Blackwater Gin (Medium Garden)
FBD Insurance Urban Sanctuary Garden – designed by Kevin Dennis for FBD Insurance (Large Garden)
CMRF Crumlin Garden – designed by Kieran Dunne and Anthony Ryan for Kildare Growers (Large Garden)
Fingal Bee Positive – designed by Fingal County Council & TU Dublin (Large Garden)
Silver Gilt Medal Winners
E3 Garden – designed by Dr. Liwen Xiao, Tom Grey & Dr. Dunzhu Li from TrinityHaus/Department of Civil, Structural and Environmental Engineering (Small Concept Garden)
UCD History of the Irish Diet in Plants – designed by Dr. Caroline Elliott-Kingston, Dr. Meriel McClatchie, John McCord, Ciaran Rooney, Hannah Johnston, and Niamh Conlon. (Large Concept Garden)
Memories are made of this – Dementia: Understand Together Garden – designed by Robert Moore for the HSE (Medium Garden)
Marie Keating Foundation Breath of Life Garden – designed by Tünde Perry for the Marie Keating Foundation (Medium Garden)
Supergarden Winner – Announced live on RTE @7.30pm.
Silver Medal Winners
The Great Outdoors – designed by Leonie Cornelius for the Irish Wheelchair Association (Small Garden)
Lidl Healthy Mind Healthy Planet – designed by Svaja Vaicula for Lidl (Small Garden)
Stolen Land: a Garden for Trócaire – designed by Barry Kavanagh for Trócaire (Medium Concept Garden)
Bronze Medal Winners
A Chothú agus a Chosaint – designed by Adrian Eggers for GOAL (Small Concept Garden)
Connectivity – designed by Brian Burke for Woodies (Medium Garden)
Nursery & Floral Pavillion Medal Winners
Best in Category – Best in Show Winner
• Aileen Muldoon Byrne, Boyne Garden Centre, Slane Co. Meath (Nursery)
Gold Medal Winners
Tim Cupper, Fuchsiavale Nurseries, Kidderminster Worcestershire (Nursery)
Emilio de Beer, Premium Pelargoniums (Fuchsiavale), Kidderminster Worcestershire (Nursery)
Billy Alexander, Kells Bay Gardens, Cahersiveen Co. Kerry (Nursery)
Paul & Orla Woods, Kilmurry Nursery, Gorey Co. Wexford (Nursery)
Pat Keville, Indoor Plant Store Ltd, Dublin 8 (Nursery)
Thomas Quearney, Mr. Middleton Garden Shop, Dublin 1 (Nursery)
Shane Ginty, Cois Na Trá Plants, Westport Co. Mayo (Nursery)
Jonathan Jackson, Papervale Trees, Newry Co. Down (Nursery)
Mark Warmenhoven, W.S. Warmenhoven, Hillegom The Netherlands (Nursery)
Silver Gilt Medal Winners
Frances Mulvany, Navan Garden Centre, Navan Co. Meath (Nursery)
Eileen Eivers, Riverlane Nurseries, Trim Co. Meath (Nursery)
Cormac O'Reilly, O'Reilly Nurseries, Mountnugent Co.Cavan (Nursery)
Deirdre Walsh and John Mulhern, Teagasc, Glasnevin Co. Dublin (Education)
Jan Stins, Green Art Production, Alkmaar, The Netherlands (Nursery)
AOIFA Floristry, Doddervale Flower Club, Dublin.
Silver Medal Winners
Sharon Bergin and Brian Hughes, Hughes Roses Ltd, Garristown Co. Dublin (Nursery)
Mary Doran, Doran Nurseries (Irish Plants), Naas Co. Kildare (Nursery)
Patrick Doran, Country Garden (Nursery)
Ivan Curran, Garden Direct, Naas Co. Kildare, (Nursery)
Bronze Medal Winners
Christopher White, Three Gates Nursery & Florist, Naul, Co. Dublin (Nursery & Floristry)
Moira Harte, Wexford Lavender Farm, Gorey Co. Wexford (Floristry)
Mike Keep, Shady Plants, Clashmore Co. Waterford (Nursery)
Leonie Meehan, Irish Fuchsia Nursery, Gorey Co.Wexford (Nursery)
Postcard Garden Medal Winners
Best in Category – Best in Show
• Fork to Fork – Longford Town Guild, Irish Countrywomen's Association
Certificate of Distinction
Blue Star Programme Garden – St. Oliver Plunkett NS Parents Gardening Group
Our Future History – St. Joseph's Boy's National School
Highly Commended
Sphere – GRETB/Castlerea Men's Shed
Looking Forward – Stewarts Celebrating 150 Years – Stewarts
Scoil Mhuire Mount Sackville Recycling Garden – Scoil Mhuire Mount Sackville
Pledge Against Plastic – Irish Girl Guides / Earthology
Commotion in the Ocean – 'The Den' ASD Unit – Sacred Heart Junior National School
'A Sense of Place' His Heartland – Lennox Robinson – Ballineen Enniskeane Heritage Group
The Great Hunger – Loretto College, St. Stephen's Green
Commended
The Destination Garden – PACE Social Enterprise
Flights of Fancy – St. Michael's House
The Birds and the Bees – Kishoge Community College
Body & Soul – Walkinstown Greenhills Resource Centre
Association of Irish Floral Artists (A.O.I.F.A) Floral Art Competition Medal Winners
Best in Category – Best in Show Winner
Ann Clifford, Dublin (Doddervale Flower Club), Category: Streamlined
Gold Medal Winners
Elizabeth Kenny, Enniscorthy, Co. Wexford (Wexford Garden & Flower Club), Category: Design with Nature
Karen O'Farrell, Rush, Co. Dublin (Sutton Floral Art Group), Category: The Art of Surprise
Harumi Langford, Dublin (South Dublin Flower Club), Category: Primal Landscape
Therese Kilcullen, Dublin (South Dublin Flower Club), Category: Wizardry
Silver Gilt Medal Winner
Sylvia Smith, Ballivor, Co. Meath (Trim Floral Art Group), Category: Design with Nature
Eileen Fair, Galway (Galway Flower & Garden Club), Category: Design with Nature
Marie Dodrill, Co. Westmeath (Sutton Floral Art Club), Category: The Art of Surprise
Marion McGee, Armagh (Monaghan Flower & Garden Club), Category: The Art of Surprise
Kathleen Barrett, Limerick (New Desmond District Flower Club), Category: The Art of Surprise
Therese Kilcullen, Dublin (South Dublin Flower Club), Category: Primal Landscape
Sunniva Sheil, Dublin (Sutton Floral Art Group), Category: Streamlined
Bridget Morley, Galway (Galway Flower & Garden Club), Category: Wizardry
Silver Medal Winner
Patricia Hannon, Longwood, Co. Meath (Trim Floral Art Group), Category: Design with Nature
Mimi Dumigan, Killiney, Dublin (South Dublin Flower Club), Category: Design with Nature
Elizabeth Murray, Co. Meath (Navan Floral Art Club), Category: The Art of Surprise
Lorraine O'Brien, Deansgrange, Dublin (South Dublin Flower Club), Category: The Art of Surprise
Louise Bolger, Dublin (Naul Garden & Flower Club), Category: The Art of Surprise
Margaret Quinn, Dublin (North Dublin Flower Club), Category: Primal Landscape
Ali Dietrich, Dublin (Sutton Floral Art Group), Category: Streamlined
Bernie Dunphy, Navan, Co. Meath (Navan Floral Art Group), Category: Streamlined
Ali Dietrich, Dublin (Sutton Floral Art Group), Category: Wizardry
Bronze Medal Winner
Anne Butler, Swords, Dublin (Naul Garden & Flower Club), Category: Design with Nature
Frances Coyne, Tallaght, Dublin (St. Domnicks Community), Category: Design with Nature
Ciara Nichol, Ashbourne, Co. Meath (Ashbourne Flower Club), Category: The Art of Surprise
Avril Maher, Athy, Co. Kildare (Naas Flower & Garden Club), Category: Primal Landscape
Christine Foley, Kells, Co. Meath (Navan Floral Art Group), Category: Primal Landscape
Karen Robinson, Wexford (Doddervale Flower Club), Category: Streamlined
Sunniva Sheil, Dublin (Sutton Floral Art Group), Category: Wizardry
Botanical and Floral Art Medal Winners
Best in Category – Best in Show Winner
"The risk it took to blossom…' by Nicola Lynch Morrin, Kildare (Floral)
"Iris "Red Rum"" by Siobhan Larkin, Dublin 3 (Botanical)
Gold Medal Winners
• "Iris "Red Rum"" by Siobhan Larkin, Dublin 3 (Botanical)
• "The risk it took to blossom…' by Nicola Lynch Morrin, Kildare (Floral)
Silver Gilt Medal Winners
"Pennywort, stone crop, ferns" by Anne McLeod, Wexford (Floral)
"Masdevallia mooreana" by Margareta Pertl, Dublin (Botanical)
"Malus cultivar" by Siobhan Larkin, Dublin 3 (Botanical)
Silver Medal Winners
"Drosera rotundifolia, D. anglica, D. intermedia Sundews" by Jane Stark, Galway (Botanical)
"Tufted Vetch – Vicia cracca" by Lynn Stringer, Wicklow (Botanical)
"Apple malus domestica 'Ross Non Pareil'" by Nayana Sandur, Limerick (Botanical)
"Rosa glauca Pourr" by Olwyn Burke, Dublin (Botanical )
"Bosc Pears / Pyrus Communis" by Patricia Maher-Hogan, Dublin (Floral)
Bronze Medal Winners
"Bright corner with hosta" by Anne McLeod, Wexford (Floral)
"Ophiopogon planicapus 'Nigrescens', Black Mondo Grass" by Elaine Moore Mackey, Dublin 16 (Floral)
"Herald of Summer" by Kathrine Geoghegan, Kildare (Floral)
"Asplenium Scolopendrium, Hart's-Tongue fern" by Niamh Harding-Miller, Wicklow (Botanical)
"Centaurea nigra" by Shevaun Doherty, Kildare (Botanical)
Highly Commended
• "Rhododendron (Rhododendron Hybrid)" by Helen Simmons, Donegal (Botanical)