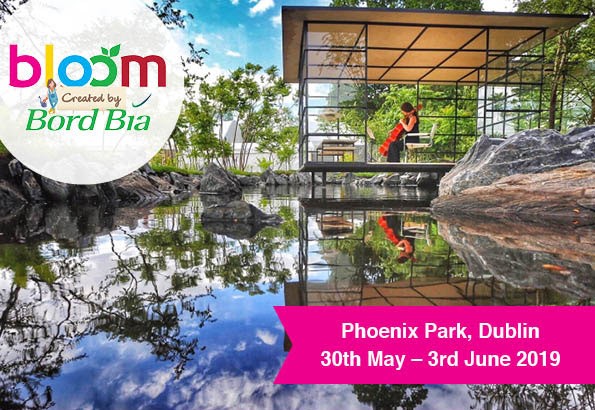 The Show Gardens are the centrepiece of Bloom and with over 120,000 visitors flocking to the Phoenix Park to view them each year, the pressure is on to create standout designs. We asked Show Garden judge Paul Maher and garden designer, Oliver Schurmann, what it takes to stage a winning garden at Bloom.
The Judge's Perspective: Paul Maher
I have been involved in Bloom from the very beginning, judging and assessing the Show Gardens for the past 13 years. It's a busy job that starts in November when the judges sit down to read all the designers' briefs and review the drawings for the following year's gardens.
From then until the show we are in regular communication with the designers and the Bloom organisers, providing feedback on the plans and preparation for the gardens. There are seven Show Garden judges on the jury and we all have different areas of expertise so the designers have a wealth of experience to draw from.
Our role throughout the process is to support the designers and help them create the best garden they can. We do not want them to fail.
Bloom Week
Assessment Day is held on Tuesday before Bloom opens. This is when we meet with the designers at their gardens to discuss how their plans have come together.
Judging Day on Wednesday is very different and everyone is cleared from the Show Garden area to allow us to examine each garden closely. Primarily we're looking to see if the designers fulfilled their brief. If they say it is going to be a tranquil, outdoor space for families or a rural garden with a woodland theme, do they deliver on that?
Then we look at the construction. Is it a well-finished garden? Finally, we examine the planting. We want to see that the plants are well spaced and not wilting. At all times we are mindful of good horticultural practice. We don't want visitors to see something in a garden and think 'that's a good idea, I'll try that at home' when in fact it's a very bad habit!
Choosing the Winners
When we have examined the garden we vote on what we think is a suitable mark. We can award Bronze, Silver, Silver-Gilt, and Gold Medals along with awards for Best in Category, Best Planting and Best Contractor. There are also awards for Designers' Choice and People's Choice, which are voted for by the designers and the public. All the designers are getting so good now that it is rare that a garden doesn't receive a medal.
If the designers would like feedback, we meet with them on Thursday – Bloom's opening day – and I do think that has contributed to the rising standards of gardens at the show. We want to encourage the designers to keep going and to try again the following year and we've found that the top performers are the ones that have taken our feedback on board.
Listening to the Crowds
Once my official duties are performed, I stay on site at Bloom for the five days of the show. I love taking off my badge and heading into the Show Gardens to listen to what people have to say about them. Often members of the public have a completely different view of something than we professionals do and this is invaluable information.
I believe that gaining the perspective of visitors makes me a better judge. As judges, we have a huge responsibility to the designers, the Bloom organisers and to the show's visitors. We agonise about our decisions and we always want to make sure we make the right choices.
Paul Maher is the former Curator of the National Botanic Gardens in Glasnevin, Dublin and Kilmacurragh, Wicklow. He recently retired from the role and is currently building a new garden in Co. Wexford with his wife, Edel.
---
The Designer's Perspective: Oliver Schurmann
In one sense winning a medal at Bloom is relatively straightforward; you need to tick all the boxes in the judging criteria. First, you are judged against your brief and you will be marked down if you don't deliver on it. Then you are assessed on the quality of your design, construction and finish.
Finally, you are judged on your use of plants and here it is crucial that you stick to the promises that you made in your brief. For instance, if you said you would only use native species then don't plant fuchsia. They may grow well in Ireland but they are native to South America.
Creating Memorable Gardens
To really win at Bloom, however, you want to create something memorable that delivers on your vision and fulfills your plans. If you do that, then you're already onto a winner and the medals and plaudits will surely follow. These are things you learn when you participate in Bloom many times. We've been here since year one and although it's a huge time commitment, we keep coming back. I find it hard to resist an invite to participate in Bloom if I'm sent a brief that seems impossible. My mind starts spinning and I quickly do a sketch of how I think the garden should be. Then my wife, Liat, and I bounce around ideas to see what will work. We love the challenge of doing something totally new.
We're hard at work on site at Bloom now, getting ready for the opening in a couple of weeks and I can't wait until the show is open so visitors can see the finished garden.
Ambitious Design
Our Aqua Marine garden for Bord Iascaigh Mhara at this year's Bloom is probably one of our most ambitious undertakings yet. We're known for incorporating a lot of water in our designs but this year's garden is 100% underwater and we believe that this may be one of the first times a garden that's entirely underwater has been staged at an international garden show.
Husband and wife team Oliver and Liat Schurmann (pictured above) are founders of the well-known Mount Venus Nursery in Rathfarnham, Dublin. They have been creating Show Gardens for the past 16 years, winning numerous awards at Bloom and other garden shows.
To learn more about what's in store at Bloom 2019, please visit www.bloominthepark.com