"We knew that we would be reopening and the virus would still be out there." This is the thinking of Susie Doyle, owner of Doyles Nursery & Garden Centre in Cabinteely, Dublin, as she prepares to reopen to the public later this month.
The family-run firm is one of many hoping to get back to business as part of the Government's first phase to reopen the country on 18 May.
Susie says the garden centre has been operating a behind-closed-doors delivery service to its customers for several weeks but is already preparing for what she says will be a "very different shopping experience".
Retailers that are primarily outdoors, like garden centres and hardware stores, were named in the Government's so-called roadmap, as being among the retailers that could get back up and running first.
Susie is delighted by the prospect and will be implementing new safety measures over the coming weeks.
"We will probably close part of the carpark so we can only have a certain amount of people in the garden centre at one time. We'll only let one person at a time go in to pay for their goods in the shop, and we have perspex glass at our tills to protect our customers and staff," she says.
Social distancing and hand sanitising will also play a role, while Susie says browsing will be a thing of the past. "I think people will come in with more of a purpose of what they want, as opposed to browsing. We'll have to try to keep people moving through the centre.
"It's just a different kind of shopping experience, but still an enjoyable one. This is a beautiful place to visit."
As well as stocking up on supplies for their gardens, from 18 May people can also look forward to some sporting activities like tennis and golf, where social distancing can be observed.
Before closing its fairways to golfers, Elm Park Golf Club in Donnybrook, Dublin had already implemented a range of safety measures to protect members.
"We had removed things that people were likely to handle; the rakes in the bunkers, the air hoses and the shoe brushes," explains Tom Ryan, course director at the club.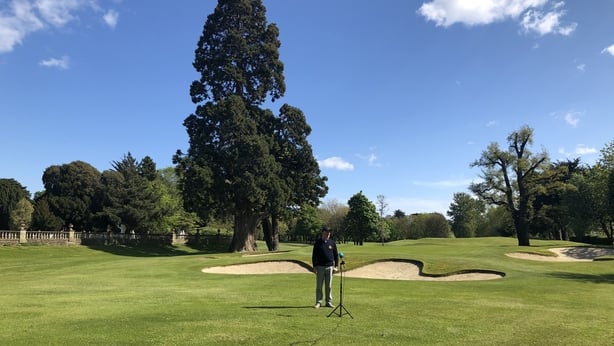 If the first phase kicks in on 18 May as planned, he says the club will ask members to arrive individually, or with family members from their household unit.
It will introduce a series of "crowd control measures" around the clubhouse while social distancing will also be enforced outside, with caddy masters "keeping an eye".
Tom says golf is the ideal sport to be allowed at a time like this, as it is "self-regulating", with the time-sheet system automatically separating people out on the golf course.
He says members are "chomping at the bit" to get back on the greens. "It's been a challenge not to play, I would probably play twice a week and with all of the beautiful weather, it's made it even more frustrating that we can't be out here," he admits.
Meeting up or exercising with up to four people outdoors could become a reality on 18 May, and some outdoor workers like gardeners or construction workers might also look forward to going back to work.
However, while some hope has been provided to people through the new roadmap, nothing is certain. Progressing through each phase will depend on how much we slow or stop the spread of Covid-19.
As well as the number of deaths, health officials will closely watch transmission rates, new cases and the numbers being admitted to hospitals and intensive care units.
These factors will be key in giving the green light to progress to the next phase.