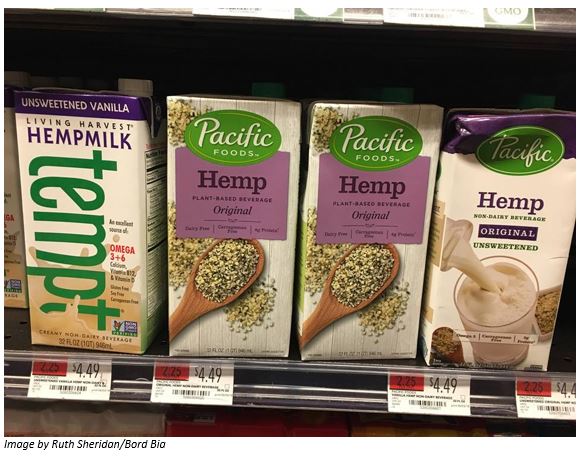 Ruth Sheridan, New York Office, Bord Bia – Irish Food Board
Among many trends predicted for 2019 including sustainability and convenience within the food and beverage industry, Forbes reported a market gap for CBD (derivative of hemp) products. With growing interest and knowledge of the beneficial factors of CBD, President Trump passed the 2018 Farm Bill legalizing hemp. The bill will allow hemp, with potential for CBD (cannabidiol) a natural component of Hemp containing less than 0.3% THC (tetrahydrocannabinol), to be differentiated from cannabis which contains the psychoactive component that makes you "high". However controls are still implemented depending on the state and FDA regulations currently restrict access of CBD in food and drink products despite niche products breaking the market (Mintel, 2019). According to the Hemp Business Journal, the hemp industry is expected to grow to $1.3 billion by 2022 due to its versatility and demand. Global Newswire reported over 25,000 CBD products were available in various categories including construction and health products with the potential to expand to other categories from the plant.
CBD products have already begun to hit shelves incorporated into milks and health food snacks. Large retailers have expressed interest in the craze creating their own line of products with private brands mimicking interest. This phenomenon is not restricted to the retail sector with interest from the food service industry. This is partially due to the association that CBD products are healthier and more natural and have less alternative effects than wine and beer as reported by Mintel (2018).
According to this Mintel report, the US is not the only country acknowledging the trend, as global markets including the UK and Germany have entered the market with CBD water and teas respectively. Greater awareness and research indicates that the use of CBD in products will help relax consumers, aid their sleep and skincare (Global data, 2018).