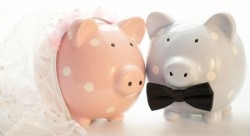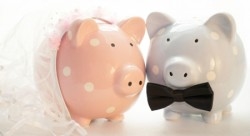 Before you figure out how you can save on your wedding budget you must set the amount the budget will be. Take an afternoon to sit down with your partner and map out firstly how much overall you can, and are willing to spend on the wedding. You should then break this down to include how much will be spent on each detail such as the venue, dress, wedding flowers etc. Make sure you have everything written down, as much as you may think differently, you will not remember all the figures! Also, don't forget to add a little extra for those 'unforeseen' costs.
Some tips to consider when trying to save on your wedding budget.
Guest List
Decide how many people you really want to invite. Would you prefer a small intimate wedding or a larger affair? If you are happy to have just your dearest and dearest with you to celebrate the day, go with it. It is you and your groom's day after all. This will save you a great amount as less guests result in less invitations, table centrepieces and wedding favours.
Wedding Invitations
Why not make your own! This could turn into a fun task for you and your groom to-be to work on together. You will find plenty of inspiration online and you should find everything you need in a good stationery shop. You could also decide not include RSVP cards and ask your guests to reply via email or telephone.
Skip Saturday
Weddings can be a lot more expensive when booked to take place on a Saturday. Both venues and wedding suppliers usually charge higher rates for this day of the week. Perhaps think about celebrating on a Friday or Sunday instead.
DIY Wedding
From making your own wedding favours to having a dessert table rather than the traditional wedding cake, there are plenty of ways you can add DIY touches to your wedding to cut costs. It also makes it that bit more personal! My favourite idea is to ask your guests to bring along a home baked cake or dessert, have these displayed on a table for everyone to enjoy after the wedding meal!
Child Free Wedding
This choice is for some wedding couples, but not for all. Deciding to have a child free wedding will save you quite a bit on your budget. Although venues do offer reduced prices for children, these do add up. If you are not overly eager to have children within your family at the wedding this could be a good option for you. I'm sure their parents will enjoy the night off!
These are just some of the options you could consider when planning your dream wedding. Make sure to consider a variety of various wedding venues and wedding suppliers so that you can compare costs and choose the one which is right for you. Wedding planning need not be stressful, enjoy it as you will spend much more time planning your wedding day than the day itself. Once the day has arrived, relax and enjoy celebrating your wedding with your groom and loved ones!
Source: Interflora – Your Wedding Budget – How to Save Some of Those Pennies!