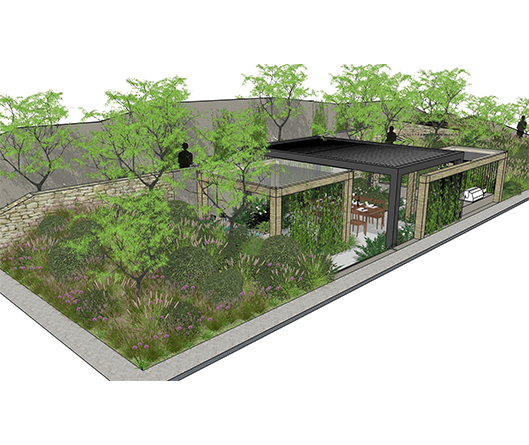 Inspired by a recent visit to Doña Paula's home in Mendoza, Argentina, Alan brings elements of the region and sprawling landscape to this garden while representing Doña Paula's campaign, 'A Matter of Altitude'. He captures the contrast between the lower altitude, urban social life of Mendoza city and the higher altitude, more rural, open landscape where Doña Paula's vines are grown.
The garden boasts two main functions: the lowest point is a semi-covered entertaining and cooking area where you can enjoy an Argentinian 'asado' (an outdoor gathering of friends featuring a South American-style barbecue). This is complemented by a pathway that represents the higher altitude vineyards of Mendoza. Open to the public, it rises through the garden to the highest point where the Doña Paula bench is located before descending to the garden exit.
Vina-Doña-Paula-–-A-Matter-of-Altitude
Alan Rudden is a Dublin-based garden and landscape designer who has more than 10 years' experience in the industry. He is the founder of Outside Options Ltd, a company specialising in the creation of high-end quality private gardens.
Alan has designed numerous award-winning gardens, most recently achieving five Gold Medals at Bloom and one at Hampton Court, London, including the coveted Best in Show, Best Show Planting prizes and Best World Garden.
Sponsored by        Suppliers