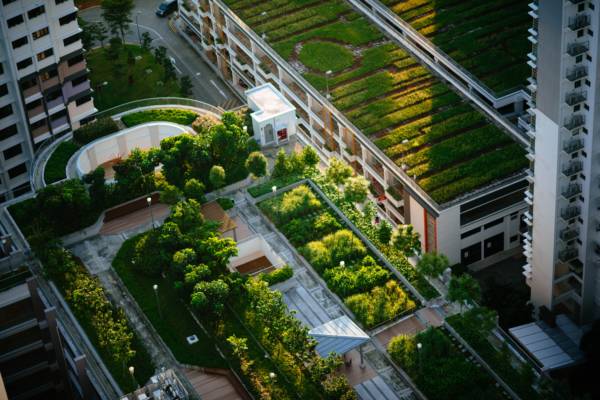 Cities that embrace the use of nature-based-solutions for water management have helped to identify highly effective techniques that will make the cities greener. This was clear to see by all those that attended the recent AIPH/WCG Green City Briefing.
The International Association for Horticultural Producers (AIPH), in collaboration with the Worshipful Company of Gardeners (WCG), presented 'Nature-based solutions for water management in cities' as the second climate action topic in its series of City of London Green City Briefings. The Briefings were launched to address climate change issues faced by the City of London and are relevant to cities worldwide.
Taking place on 11 May 2021, the briefing was led by M'Lisa Lee Colbert, Associate Director of The Nature of Cities. The programme featured Robert Brears, Founder of Our Future Water and James Hitchmough, Professor of Horticultural Ecology at the University of Sheffield.
Robert Brears, Founder of Our Future Water, demonstrated the role of Blue-Green Infrastructure (BGI) in cities around the world and the innovative policies being used to encourage the uptake of nature-based-solutions. "Ageing grey infrastructure found in cities is leading to major issues, with water quantity and quality being impacted – we can't allow this to continue", urges Robert.
In response, some cities are turning to BGI that uses natural processes to manage stormwater by restoring natural systems. These solutions come in the form of rain gardens, green walls, green streets, and urban forests, and every one of these provides multiple benefits. For example, a green wall can reduce stormwater runoff and improve water quality while also decreasing the urban heat island effect, improving the insulation of the building, and providing habitat for multiple species. BGI also delivers co-benefits for city resilience, such as enhanced biodiversity, protection from climate change, green jobs, reduced infrastructure costs, and space for recreation.
Cities around the world are encouraging the uptake of BGI on private and public properties, covering both retrofit and new developments. Berlin, North Carolina and New York are using fiscal tools such as stormwater fees, grants and subsidies.
Where there is resistance to fiscal tools, non-financial approaches can be immensely successful such as awareness campaigns, fast-tracking planning applications, and smaller scale pilot projects, as demonstrated by San Francisco, Melbourne and Singapore.
Robert Brears concluded his around the world tour by saying: "BGI has to be part of a multifunctional network to deliver huge economic, environmental and social benefits. Cities need to be innovative in their thinking in how to integrate and maintain BGI, and how to engage stakeholders. Cities and councils must lead by example to prepare the groundwork for a mandatory greener future."
James Hitchmough, Professor of Horticultural Ecology at the University of Sheffield, presented ways to re-imagine urban landscapes from a water management perspective, referencing Copenhagen's success in separating stormwater from sewage, the UK London Olympic flood plain design, and Longquanshan, Chengdu in Western China, where stormwater is being held in catchments in a mountain landscape. James highlighted the need to think on a larger scale in city planning instead of single streets or isolated projects, using the Grey to Green Sustainable Urban Drainage Systems of Sheffield as an example, which, although the largest in the UK, is still a small-scale approach. He proposed that in Sheffield, where there is a lot of water that runs off the top of the ridge and many green spaces dotted around, the city could think about retrofitting and connecting green spaces to capture the water, in turn creating many biodiversity benefits and community interest.
The strategy for plant selection needs consideration of species, project size and design, and may vary from wetlands, wet meadows and woodland to gravel bed planting and designed mown turf. It is important to rank all species in terms of moisture gradients and recognise the most suitable for each environment whether for shade, drought and waterlogged situations. Many designs struggle because they have limited perception of these issues. Horticultural literature of the species that tolerate oscillating wet-dry conditions is very limited, yet this knowledge of plant habitats and ecology is critical to successful nature-based-solutions for water management.
James concluded by saying: "Water management is talked about, but is not yet part of the big picture. This radical view has to become the new normal to collectively achieve our goals. Cities need a catchment approach to urban stormwater management; working on a project-by-project basis is not enough."
The series of free-of-charge City of London Green City Briefings encourages an open exchange of ideas and activities that supports global city resilience in response to the climate action strategies. The lively Q&A session, led by M'Lisa Colbert had time to answer only some of the questions from the audience of diverse professions from more than 40 countries.
Watch the 'Nature-based solutions for water management in cities' webinar at aiph.org/event/green-city-briefings-water-attenuation where you can hear recordings of the speakers' presentations and the Q&A session with discussion on green walls, drainage misconnections, permeable pavements for recreation, the re-wilding trend, and how to address the fear of water.
For more information contact AIPH Green City at greencity@aiph.org